Rutgers Regional Biocontainment Laboratory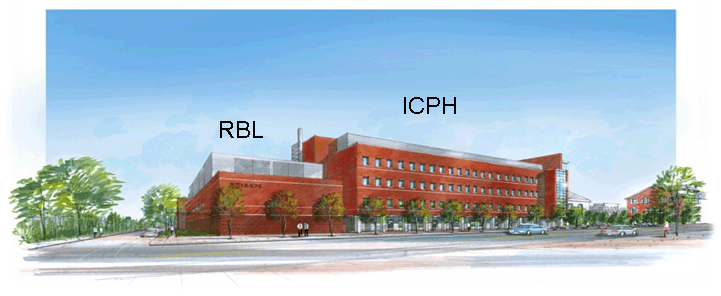 The study of infectious diseases requires specialized facilities to perform research safely and efficiently with highly transmissible pathogenic agents. In many cases, specialized containment laboratories are required. The PHRI operation at the International Center for Public Health (ICPH) houses some of the most advanced laboratories for the study of biological agents under biosafety level 3 (BSL3) conditions, including one of the largest BSL3 vivarium programs in the Northeast USA.
The new Rutgers Regional Biocontainment Laboratory (Rutgers RBL) is a self-contained 40,000 square feet facility that serves as one of thirteen national centers designated by the National Institutes of Health (NIH) for research on BSL3 infectious agents. Adjoining the BSL3 vivarium and BSL3 laboratories at the ICPH, the total BSL3 operation at the ICPH comprises more than 13,000 square feet of vivarium and laboratory spaces dedicated to BLS3 pathogens. Under the direction of Dr. David Alland, Director of the PHRI, the Rutgers RBL operation advances the national biomedical research agenda by addressing a basic understanding of pathogen biology and promoting the development of new vaccines, therapeutics and diagnostics against existing and emerging infectious agents.
---
CONTACT INFORMATION
David Alland, MD
Director, Rutgers Regional Biocontainment Laboratory
Rutgers-New Jersey Medical School
225 Warren Street, Newark, New Jersey 07103
Email: allandda@njms.rutgers.edu
phone: 973 854 3100
Preeti Bharaj, PhD
Director of BSL3 Operations
Rutgers-New Jersey Medical School
225 Warren Street, Newark, New Jersey 07103
Email: pb607@njms.rutgers.edu
Phone: 973 972 1916