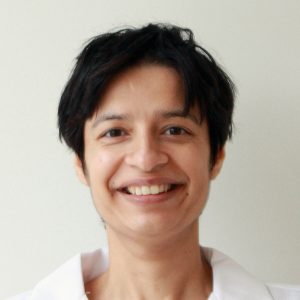 Preeti Bharaj, Ph.D.
Director of BSL3 Operations, ICPH RBL
Instructor, Department of Medicine
pb607@rutgers.edu
+1-973-972-1916
room RBL-2217
Work in the Bharaj laboratory focuses on the development of novel models of drug activity against bacterial and viral pathogens, including select agents, Mycobacterium tuberculosis, and SARS CoV2. In addition, we focus on the aerosol transmission of SARS-CoV2, Mycobacterium tuberculosis, with the aim to directing antibiotic drug discovery projects within the Center of Excellence in Translational Research (CETR).
Dr. Bharaj has collaborated with academic groups and commercial entities to examine drug susceptibilities pathogenesis and sterilizing agents in SARS CoV2, and in bacteria including Mycobacterium tuberculosis and Select Agents.  Research at Bharaj lab also focuses on host-pathogen interactions and innate immune responses to viruses.
Letizia AG, Ge Y, Vangeti S, Goforth C, Weir DL, Kuzmina NA, Balinsky CA, Chen HW, Ewing D, Soares-Schanoski A, George MC, Graham WD, Jones F, Bharaj P, Lizewski RA, Lizewski SE, Marayag J, Marjanovic N, Miller CM, Mofsowitz S, Nair VD, Nunez E, Parent DM, Porter CK, Santa Ana E, Schilling M, Stadlbauer D, Sugiharto VA, Termini M, Sun P, Tracy RP, Krammer F, Bukreyev A, Ramos I, Sealfon SC (2021) SARS-CoV-2 seropositivity and subsequent infection risk in healthy young adults: a prospective cohort study. Lancet Respir Med 9: 712-720. PMI: 33865504
van Tol S, Atkins C, Bharaj P, Johnson KN, Hage A, Freiberg AN, Rajsbaum R (2020) VAMP8 Contributes to the TRIM6-Mediated Type I Interferon Antiviral Response during West Nile Virus Infection. J Virol 94. PMI: 31694946
Khakhum N, Bharaj P, Myers JN, Tapia D, Walker DH, Endsley JJ, Torres AG (2019) Evaluation of Burkholderia mallei DeltatonB Deltahcp1 (CLH001) as a live attenuated vaccine in murine models of glanders and melioidosis. PLoS Negl Trop Dis 13: e0007578. PMI: 31306423
Khakhum N, Bharaj P, Myers JN, Tapia D, Kilgore PB, Ross BN, Walker DH, Endsley JJ, Torres AG (2019) Burkholderia pseudomallei DeltatonB Deltahcp1 Live Attenuated Vaccine Strain Elicits Full Protective Immunity against Aerosolized Melioidosis Infection. mSphere 4. PMI: 30602524
Bharaj P, Atkins C, Luthra P, Giraldo MI, Dawes BE, Miorin L, Johnson JR, Krogan NJ, Basler CF, Freiberg AN, Rajsbaum R (2017) The Host E3-Ubiquitin Ligase TRIM6 Ubiquitinates the Ebola Virus VP35 Protein and Promotes Virus Replication. J Virol 91. PMI: 28679761
Bharaj P, Wang YE, Dawes BE, Yun TE, Park A, Yen B, Basler CF, Freiberg AN, Lee B, Rajsbaum R (2016) The Matrix Protein of Nipah Virus Targets the E3-Ubiquitin Ligase TRIM6 to Inhibit the IKKepsilon Kinase-Mediated Type-I IFN Antiviral Response. PLoS Pathog 12: e1005880. PMI: 27622505